Forum Integration in ländlichen Räumen (Forum Integration in Rural Areas)
The Forum Integration in Rural Areas is a permanent network for connecting municipal actors in integration work. In the Forum Integration in Rural Areas, representatives of (rural) district administrations exchange views on challenges, concepts and strategies of municipal integration work in a protected environment and jointly develop approaches to solutions. The participants of the forum are united by their commitment to a successful coexistence of all people living in rural areas. The inaugural meeting of the forum took place in June 2021 with 24 participants.
Currently, representatives of the following districts participate in the forum:
Bernkastel-Wittlich
Burgenlandkreis
Celle
Coburg
Dachau
Dahme-Spreewald
Enzkreis
Goslar
Karlsruhe
Lippe
Ludwigslust-Parchim
Oldenburg
Potsdam-Mittelmark
Ravensburg
Schwalm-Eder-Kreis
Steinburg
Stendal
Uckermark
Vogtlandkreis
Waldeck-Frankenberg
Weilheim-Schongau
Werra-Meißner-Kreis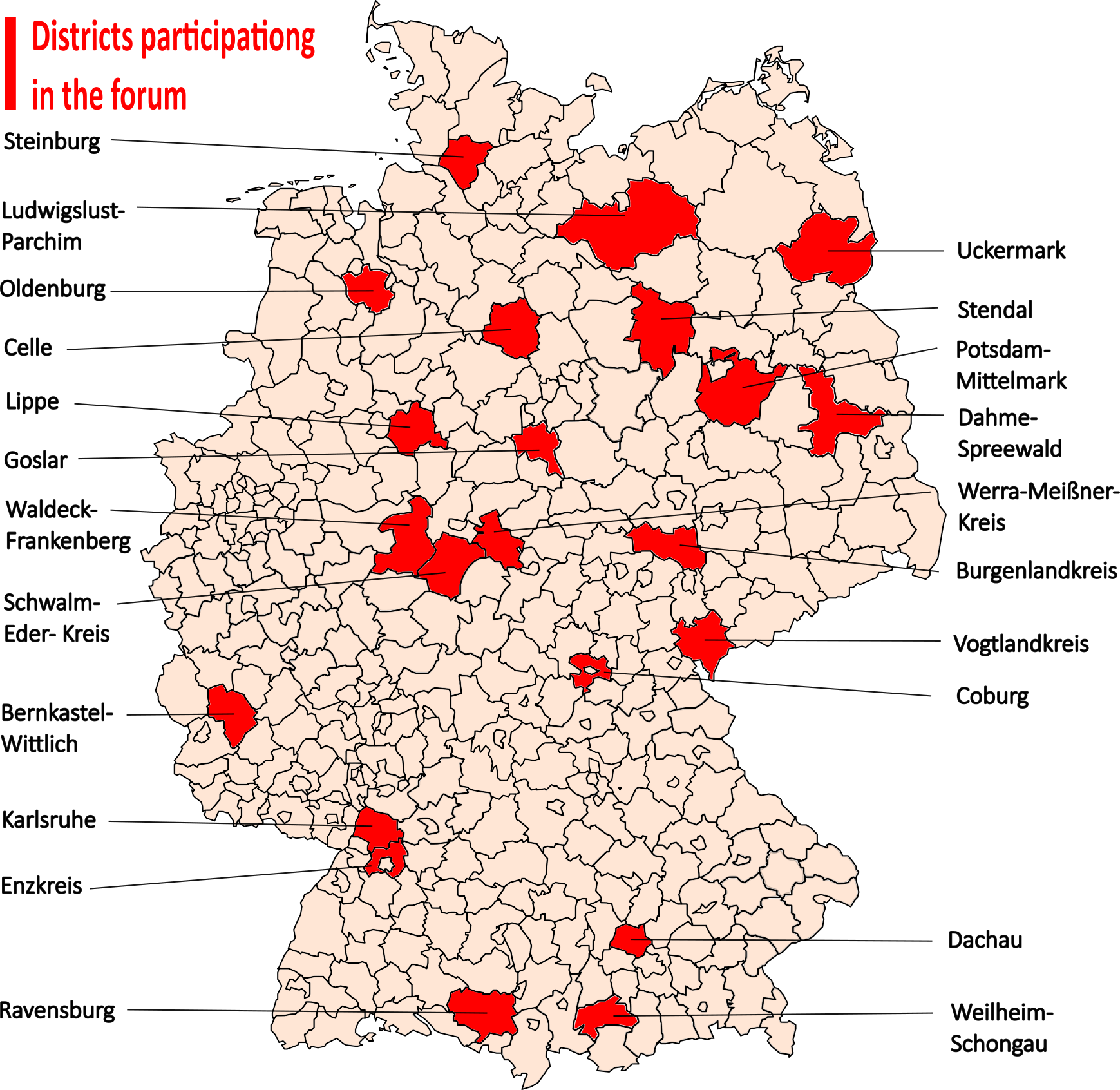 Learning Exchange Grants
Learning Exchange Grants are an instrument to enable district representatives, who are part of the program, to visit other districts in order to facilitate the transfer of knowledge related to challenges, solutions and practices of integration policy. Learning Exchange Grants can be requested at the Program Office of Land.Zuhause.Zukunft. District representatives are free to choose their destination, the subject of their visit and the experts they want to engage with.
The visiting district organizes a program together with the hosting municipality to engage in fruitful exchange. Travel costs of the visiting district are covered by the program